Collaborative Spotlight: Dan River Region Collaborative
November 13, 2013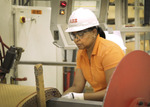 Dr. Julie Brown, director of the Dan River Region Collaborative (DRRC) recently spoke at the National Fund for Workforce Solutions Southern States Regional Meeting. She shared insights about strategies to increase workforce development capacity and attract more employers to the largely rural four-county-two-city Dan River region in Southern Virginia.

Dr. Brown noted the ongoing efforts to close that region's skills gaps, promoting regionalization to more closely align workforce development and economic development. For example, several economic development entities have joined together to market the broader Southern Virginia region. "Regionalism is about partnerships and collaboration to leverage our assets. The way we promote our region is important in being able to attract employers and connect our workforce to these jobs and career opportunities," said Dr. Brown. "This includes selling to employers the ability to tap into the region's 100,000 workers as opposed to the workers from just one or two of our communities."

A second round of on-the-job (OJT) funding is following the completion of the National Fund Boeing OJT project. DRRC is working with eight companies offering OJT to 18 incumbent employees and 23 new hires with pay of up to $24 an hour. Additionally, an advanced manufacturing partnership has led to the first round of graduates of the MSSC Certified Production Technician Training Program, and guaranteed interviews for those completing this short-term technician training.

DRRC's new IT partnership includes the development of employer-driven online IT training modules. Lauded for its access to broadband, the Dan River region has benefited from the relocation of WebParts' computer programming and data center to Danville from Guatemala. Through the DRRC IT partnership, and the region's availability of newly trained workers, WebParts hopes to meet its target of hiring 200 skilled employees.

The Dan River region is participating in ACT's Certified Work Ready Communities (CWRC) initiative as a pilot region for Virginia. "Using the National Career Readiness Certificate, we can address skill shortages and put our citizens on career pathways that lead to family sustaining wages," said Dr. Brown. Click here for more information.